[JapanHDV] We have a magic mirror for Mirai Aoyama today and a group of men for her too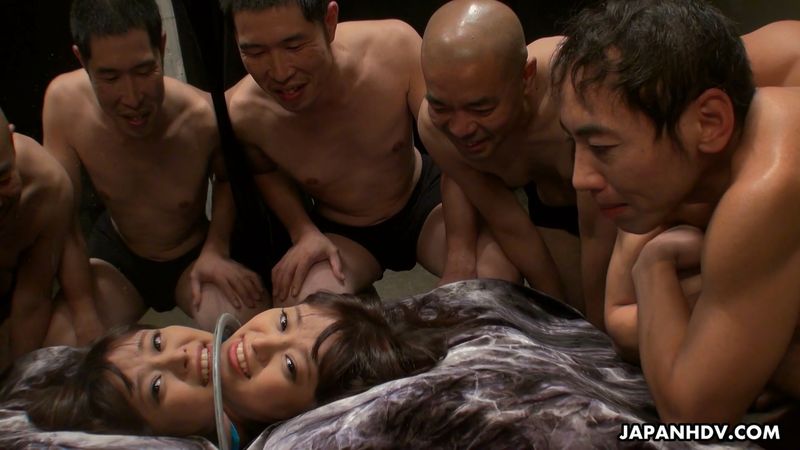 Mirai Aoyama is always such a good sport. We had a fun time with her earlier in the make up room as she got ready for today's video shoot. We did not tell her much about what we would be doing, we just mentioned an abandoned building and a mirror. This got her very excited. She imagined what we were talking about but could not have imagined what would be happening to her. As she enters the space today she notices the bed and the mirror over it and the large hole on the bottom. She has no idea what it will be used for. She also has no idea we have called a whole group of horny men to the shoot today to help us out with our new fun toy. It is called a magic mirror as Mirai puts her head through it and can not see what is happening to her body on the other side. She just knows that someone starts to touch her. And then she realizes that there are more than one set of hands that are touching her and she realizes this is going to be a gang bang of her pussy as a group of men are going to go to work on her sexy body as she lays on the bed with her head on the other side not seeing what is happening. Our group of men begin by using their hands to explore the body of Mirai and they then bend over and start to use their tongues on her licking her sexy body and tasting her delicious sweat.
[JapanHDV] Ann Takase gets to meet a fan in her home today to suck and fuck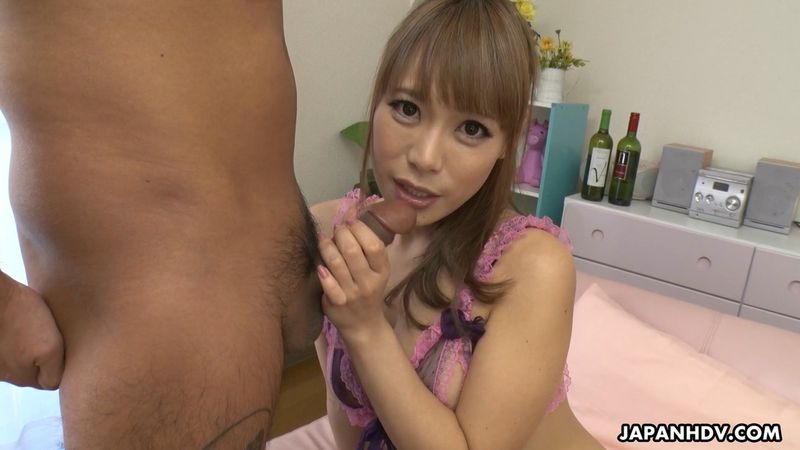 In Japan AV actresses are revered. They become famous and are very sought after as TV hostess and personalities. They are not shunned and marginalized. So, today we have miss Ann Takase who is an adult video actress in Japan and we have surprised her by coming to her home to do some filming. Normally she would come to us but today we wanted to show what it is like for a fan of hers to enjoy some time with her in her own surroundings. Ann Takase is very sought after in the adult industry. Ann is sexy and young and has a very unique look to her. Ann is not your typical waif of an AV actress but has a full figure and is super sexy. She is a new kind of AV idol as she has a real ass on her, one that you can grab a hold of when you are sliding your cock inside of her. She has a great set of tits as well that are not your typical tiny Japanese tits. We are back in her room today and have brought a long a fan of hers to meet her and of course our guys with their cameras so we can film the fan encounter. We are very happy to chat with Ann as well during our time with her in her room. She explains why she became an AV actress. In her real life she was not able to have the kind of sexual encounters she wanted, so she decided in this profession she could have the threesomes and orgies and wild sex she craved. Today she has a fan in her room and she gets to show us her skills she has acquired as an AV actress. Those include sucking and fucking. We are all here for it and the lucky fan gets his dream come true with Ann Takase today.
Categories: Big Tits, Blowjob, Cumshot, HD, Tits Job, Toys
Format : MPEG-4 at 8 162 kb/s
Length : 1.71 GiB for 29 min 55 s 628 ms
Video #0 : AVC at 8 000 kb/s
Aspect : 1920 x 1080 (1.778) at 59.940 fps
Audio #0 : AAC at 128 kb/s
Infos : 2 channels, 48.0 kHz
[JapanHDV] Marica Hase - Marica comes to Europe to play with us and gets fucked in the garden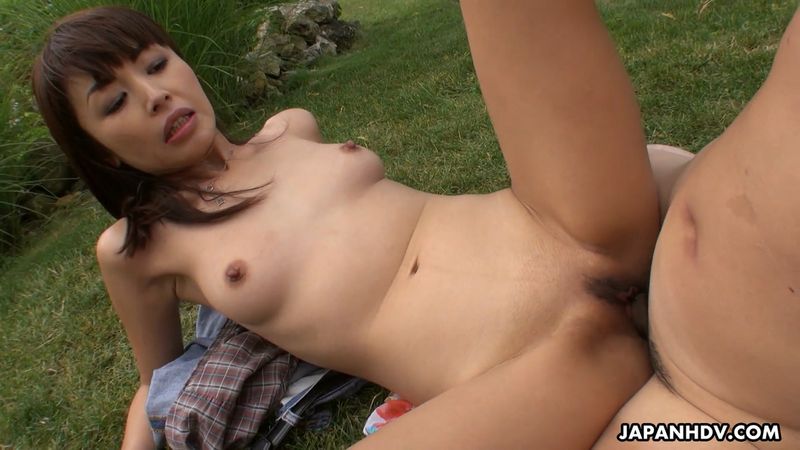 Marica is in Europe. This is so exciting for everyone as she has wanted to come to visit and now she is here. This is a fun interview with Marica and she talks about her life and how she enjoys being a porn actress. She loves her life and is quite happy to be known as a porn star. Marica has worked all over the world and she loves to role play and enjoys her job but is not so fond of prying journalists asking about her private life. She is outside today for our shoot and she loves the outdoors and is excited to be shooting in Europe. Marica is having so much fun on the shoot today she is not sure if it is a documentary about her life or if the other actors on the set are there to role play with her. Her male counterpart decides to treat her like a mother figure and asks her to treat him like a young man. This quickly devolves into a fun time and some fun play between the two. They get into it right away and outside as well.
[KV-179] 141分間ノンストップ撮影、ノーカット編集で生中出し23連発に長時間お掃除フェラとぶっかけ17連発!! 水野朝陽 Uncensored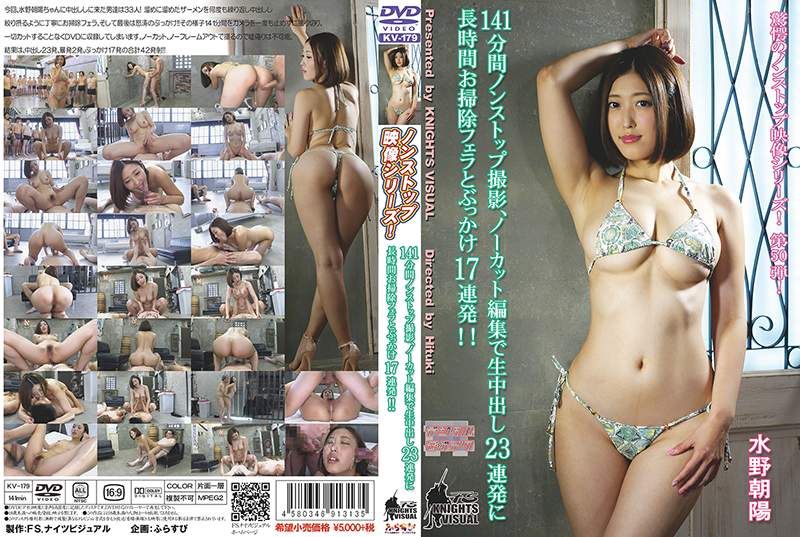 Release Date: 2016-10-07
Director: Hitsuki
Manufacturer: FS.KnightsVisual
Label: Furasupi
Genre: Creampie Solowork Facial Bukkake
Cast: Asahi Mizuno
Uncensored - Strongly said, just blurred the pixels. Filled in for trial. The blog has a regular version, which in my opinion is better, but of course it's up to you to decide
Format : MPEG-4 at 1 702 kb/s
Length : 1.69 GiB for 2 h 22 min 0 s 640 ms
Video #0 : AVC at 1 503 kb/s
Aspect : 1280 x 720 (1.778) at 29.970 fps
Audio #0 : AAC at 192 kb/s
Infos : 2 channels, 48.0 kHz
[JapanHDV] Kimono Lady Ako Nishino gets a gang of men to fuck her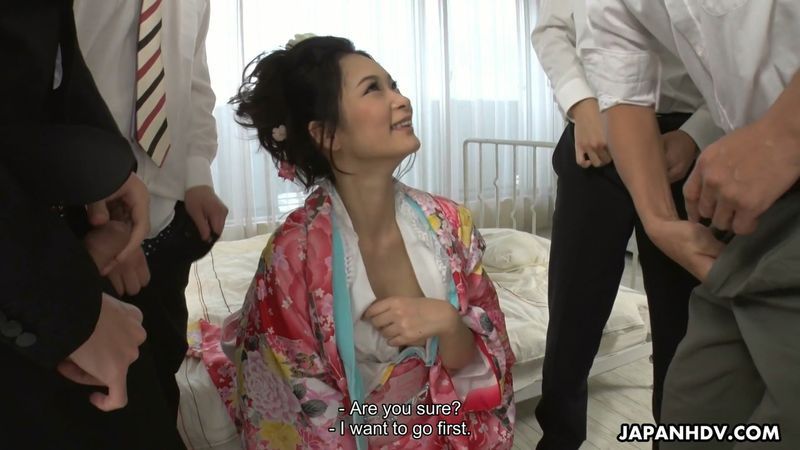 Our Kimono Lady today is Ako Nishino. After a lovely evening at a school reunion some students and their former teacher all decide to go back to Ako's place as it is nearby. They have all been drinking so they are quite loose with the tongue and everyone is enjoying themselves. One of them accidentally exposes all of the sex toys Ako has hidden in a bag. Ako is quite embarrassed by this discovery, and asks them to all keep it a secret. They all agree but they are also excited at the thought of this cute Japanese girl using all the sex toys on herself. All of them decide that they will keep the secret if she agrees to show them all how she uses her dildos on her own pussy. Since Ako does not want the secret out she sits down and starts up one of her vibrators and massages her clit for all of them to see. Ako keeps her kimono on and her legs closed. She is urged to let go some and spread open her legs so the group can watch as her pussy gets stimulated from the vibrations of her long sex toy. Ako gets turned on with this feeling and showing a whole roomful of men how she masturbates she takes off her panties and really gets into playing with her pussy. Ako agrees to spreading her legs wide and showing them all her pussy lips as they become wet and juicy from being turned on. What a lovely sight to watch this cute kimono clad Japanese girl masturbate for them. The men are all turned on so much they all get into the act and grab a sex toy to use on her pussy. They also pull that kimono down to get to her tits to play as she gets fucked by someone sliding a sex toy deep into her pussy.
Categories: Big Tits, Close Up, Fingering, Hairy Pussy, HD, Kimono, Spread pussy, Toys
Format : MPEG-4 at 8 087 kb/s
Length : 2.33 GiB for 41 min 15 s 500 ms
Video #0 : AVC at 8 000 kb/s
Aspect : 1920 x 1080 (1.778) at 59.940 fps
Audio #0 : AAC at 129 kb/s
Infos : 2 channels, 48.0 kHz
[JapanHDV] Kisa Azumane invites two men back to her office to get them interested in sex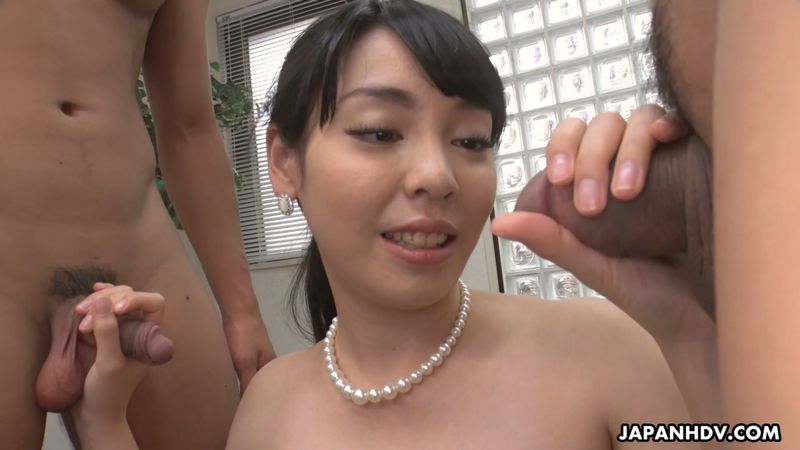 News Announcer Kisa Azumane turned politician is asking all Japanese to do their part to help with the decline in population. These two guys are just not interested in relationships and marriage so they tell her, no way. She takes them back to her office to chat about this issue and she explains to them that if sex were not so troublesome to get would they be more interested in fucking. These boys are very happy to hear what she has to say and she grabs their hands and uses them to rub her big tits. These two young men more and sorta got what they came for. Kisa kisses them and gets them horny and shows them how easy it is to get naked and enjoy some coitus. She asks both of them to get naked and she allows both these young men to spend the afternoon enjoying her body. She is very lovey and Kisa has the sweetest pussy. The gentlemen spread her legs and go to work rubbing her pussy hole. They are both quite excited that this hot sexy lady has brought them back to her office and she is allowing them to explore her body and enjoy some time rubbing her pussy. They really do rub her pussy right as she moans with pleasure as they spread her hole and finger her clit and enjoy an afternoon with this hot Japanese lady. They ask about sticking their fingers inside her and she agrees but only one at a time. They love the smell and feel of her pussy so they both go down on her licking that hot pink Japanese pussy hole and giving it a tongue bath. She is the hottest woman and they bring out some vibrators to use to get her wetter and hornier.
Categories: Blowjob, Close Up, Creampie, Cumshot, Fingering, Hairy Pussy, HD, Small Tits, Spread pussy, Threesome
Format : MPEG-4 at 8 150 kb/s
Length : 3.42 GiB for 1 h 0 min 9 s 0 ms
Video #0 : AVC at 8 000 kb/s
Aspect : 1920 x 1080 (1.778) at 59.940 fps
Audio #0 : AAC at 129 kb/s
Infos : 2 channels, 48.0 kHz
[JapanHDV] Misaki Yoshimura escapes her house to find some men for an orgy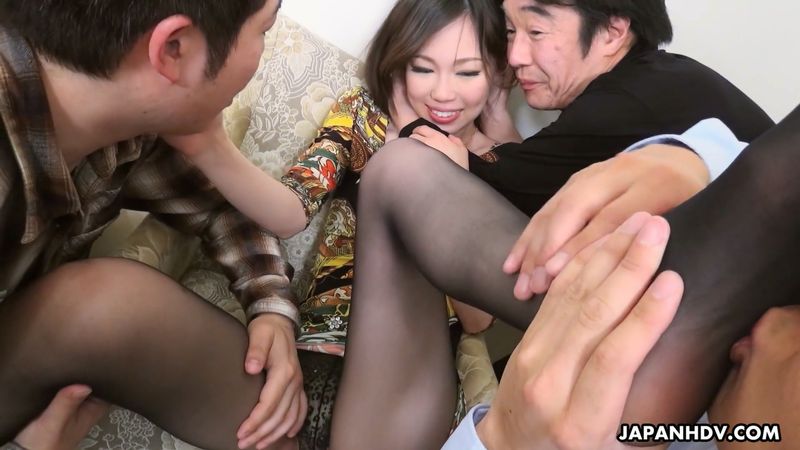 When we last saw Misaki she was sucking some hard cock. She had her husband in mind when he asked her to suck him off after dinner. She was not going to fuck but he insisted that she come closer to him so he could feel her body. He got his cock hard and he wanted her to suck him off. She is a good Japanese housewife and of course allowed him inside her mouth. She let him know that she needed a fuck but after he blew his cum in her mouth all he wanted to do was sleep. So, being the smart Japanese housewife that she is she let him sleep. She went and showered and got dressed up and went to pay a visit to a friend. This friend would not deny her when she asked to be fucked. After she arrives at his place, she is told that she will indeed be fucked and that he has invited a few friends over to help him get her what she needs. She is quite eager to meet them and the other two men there are eager to get a piece of her. Misaki looks fantastic and she is wearing something special under her dress. She has a sexy pair of leopard print thong panties. Misaki does not resemble the shy quiet housewife as we saw her last. She is horny and sexy and is a fuckable sex toy you would find out any late night at a club. The men get to work on her taking off her clothes and groping her and kissing her beautiful body. This sexy Japanese angel is enjoying all the attention and can not wait to have a cock in her mouth and one in her pussy. She has desires that need fulfilling and she is here to be ravished and taken and fucked so she can climax. The men have even brought along some sex toys to stimulate that lovely clean shaven pussy of hers. What a fun night she is having with all those cocks all over her.
Format : MPEG-4 at 8 110 kb/s
Length : 2.69 GiB for 47 min 28 s 940 ms
Video #0 : AVC at 8 000 kb/s
Aspect : 1920 x 1080 (1.778) at 59.940 fps
Audio #0 : AAC at 128 kb/s
Infos : 2 channels, 48.0 kHz
[JapanHDV] Maki Koizumi jumps on men in a public bathroom to suck them off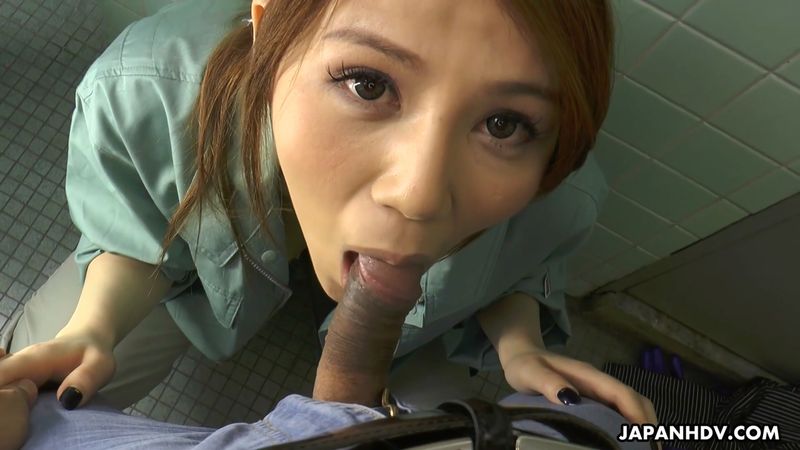 Maki Koizumi works as cleaning staff at a movie theater and she loves to wait for men to enter the restroom in the back so she can hunt them down and tease and tempt them. They think she is just there to clean the restroom when she is really there to watch them pull their dicks out and then rub up against them with her ass as they try to pee. Maki makes sure to wear no bra and have her uniform unbuttoned so that they can get a great view of her lovely tits as she leans over and sweeps and mops the floor. Today Maki has found the last customer has entered the restroom in the back in the small theater so she goes back to tempt him to see if he will make any advances when she teases him with her hot tits and a rub of her nice ass. He can not pee when she is there and Maki is obviously watching his cock as he tries. She is going to get him hard as she leans over and insists that he not be bothered by her as she mops the floor but her tits look so lovely as she bends over and she is too cute so there is little this unsuspecting man can do but hold on to his cock and watch as she moves around him trying to catch a glimpse of his dick as she pretends to clean. This is too much of him and he just starts jerking off watching her. This is her cue to reach over and help him with his cock as he jerks himself off and she leans in and sucks him and helps him jerk off. She lets him titty fuck those amazing tits as well and finally just pulls his cock into her mouth and sucks him until he unloads all his cum into her pretty mouth. She shows him how much cum he blew as she spits it in her hand. Maki sure got him off making this the best public bathroom visit of his life.
Format : MPEG-4 at 8 119 kb/s
Length : 1.33 GiB for 23 min 26 s 706 ms
Video #0 : AVC at 8 000 kb/s
Aspect : 1920 x 1080 (1.778) at 59.940 fps
Audio #0 : AAC at 128 kb/s
Infos : 2 channels, 48.0 kHz